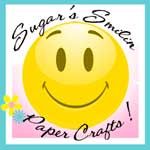 This is a button that is for advertising my blog ! IF you would like to help me gain more subscribers, would you please ADD this button to your own blog ?
I would love to gain a few more subscribers !!!! When I get around 45-50 subscribers, I will begin to have Blog Candy Contests !!!
I appreciate ALL the subscribers I have now. Some of you who have blogs are really super, super talented !
Be sure to "GRAB MY BUTTON" today !
( Email me ! )
http:\\www.sugarssmilinpapercrafts.blogspot.com